PicoQuant - It's about time Single Molecule Workshop
26th International Workshop on
"Single Molecule Spectroscopy and Super-resolution Microscopy"
September 2021, Berlin, Germany

We recognize the challenges faced by our attendees and speakers as a result of the restrictions on meetings and travel imposed worldwide due to COVID-19. The health and safety of attendees, staff, and community are our top priority. After long deliberation and listening to feedback from many registered participants, we have decided to cancel this year's Single Molecule Workshop 2020. The 26th edition of the Single Molecule Workshop will therefore take place on September 8-10, 2021 (preliminary date).
Impressions from the past
To get an impression of our Single Molecule Workshops have a look at the video below or browse through our workshop archive.
Aim and purpose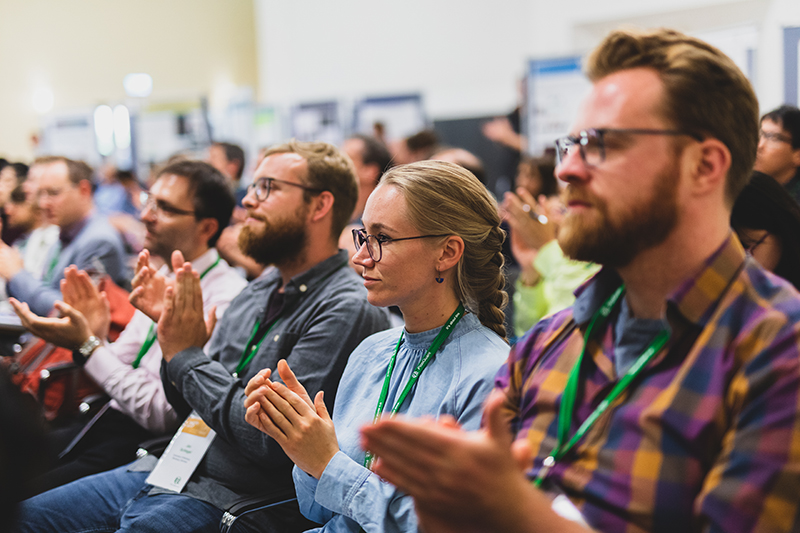 The focus of PicoQuant's long-standing workshop lies on ultrasensitive optical detection down to the single molecule level as well as beyond the classical diffraction limit. The event provides an interdisciplinary platform for exchanging ideas and recent results between researchers and professionals working in the fields of physics, chemistry, biology, life and materials science.
During the workshop, talks and posters are presented that cover a wide range of applications and methods revolving around the challenging field of Single Molecule Spectroscopy.
Covered topics include:
Fluorescence Lifetime Imaging (FLIM)
Single molecule Förster Resonance Energy Transfer (smFRET)
Polarization and Anisotropy based techniques
Quantitative imaging methods
New fluorescence sensors and labeling schemes
Fluorescence Correlation Spectroscopy (FCS) and Fluorescence Lifetime Correlation Spectroscopy (FLCS)
Stimulated Emission Depletion (STED) microscopy
Single Molecule Localization Microscopy (e.g., PALM, STORM, dSTORM, GSDIM, PAINT)
Open source data analysis solutions
Big Data and Machine Learning approaches to superresolution and single molecule techniques
Both widefield and confocal fluorescence microscopy techniques are covered as well as in vivo and in vitro measurements with single molecule sensitivity.
Student award
As nurturing young scientists is important to PicoQuant, we host a competition for the "Best Student Talk" with an award worth 750 Euro. Undergraduate and graduate students are invited to submit their contributions until May 31, 2020. Please indicate during the registration/abstract submission if you wish to participate in the contest.
Undergraduate and graduate students are encouraged to submit their contributions. Details about the submission process will be announced at a later date.
Important dates
Deadline for submission of abstracts: May 31, 2020
Deadline for early bird registration: May 31, 2020
Deadline for a fee waiver application: May 31, 2020
Final deadline for workshop registration: August 15, 2020
Notification on acceptance of abstracts: July 2020
Program available: July 2020
All important dates will be announced at a later date.
Submission of post deadline poster is still possible.

Deadline for submission of abstracts for post-deadline posters: August 15, 2019
SymPhoTime Training Day
One day before the workshop, on September 11, PicoQuant will host the "SymPhoTime Training Day" for users of the SymPhoTime and SymPhoTime 64 software. Participation is free of charge.
For details visit the event website.
Conference on Single Molecule Spectroscopy at BiOS 2021
Within the framework of the Biomedical Optics Symposium BiOS, PicoQuant is co-organizing the special conference "Single Molecule Spectroscopy and Superresolution Imaging XIV (BO503)." As a special motivation for young researchers, PicoQuant is presenting the "Young Investigator Award" as part of this session. Young scientists (age 32 or below and not yet full faculty members) are encouraged to participate in this best paper competition which offers a cash award worth 1000 USD. For details please go to the BiOS conference website: https://spie.org/PWB/conferencedetails/single-molecule-spectroscopy
Future workshop
September 16-18, 2020
Contact
Workshop coordinator: Marta Kolonko
Tel: +49-30-1208820-87
Fax: +49-30-1208820-90
Email: workshop@picoquant.com

Please note: schedule and content of this event is subject to change without notice.

Speakers will be announced in spring 2021.
The program will be online in summer 2021.
Registration
Registration opens in spring 2021.
The registration will open in April 2019.
The registration is now closed. If you would still like to participate, please contact us via workshop@picoquant.com.
Archive
The workshop on "Single Molecule Spectroscopy and Ultra Sensitive Analysis in the Life Sciences" is an annual event since 1995. For a summary of each year's event, please select the year from the list below.
Thank you for registering for the Single Molecule Workshop!
An email with the supplied information has been sent to the provided address.
×