Single Molecule Workshop
26th International Workshop on
"Single Molecule Spectroscopy and Super-resolution Microscopy"
September 29 – October 1, 2021, Berlin, Germany

The workshop will take place on-site in Berlin
For most of us, it has been more than a year since we last participated in an in-person event. We have all been living in a virtual world ever since, not only for discussions with colleagues but also for meeting friends and family. After more than a year into this pandemic, many of us are tired of this situation. However, there is a light at the end of the tunnel: With increasing numbers of vaccinated people and a decreasing numbers of cases in many areas of the world, we at PicoQuant take a positive outlook on the future and that this global trend will continue to improve.
Therefore, we want to take the chance to offer the Single Molcule Community one of the first in-person meetings after the easing of COViD-19 restrictions. Please save the date: the 26th International Workshop on "Single Molecule Spectroscopy and Super-resolution Microscopy" will take place in Berlin, September 29 – October 1, 2021.
We will of course make sure to implement an adequate hygiene concept and will continuously monitor the situation to judge if an in-person meeting can really be held or not. We also understand that it might be difficult for many of you to decide now whether to register now for an in-person meeting at the end of September or not given the current circumstances. To account for that, we are offering generous payment and cancellation terms to everyone.
Nonetheless, we hope that you will see this message as a positive sign that the world is (hopefully) overcoming the pandemic and decide to join us in Berlin at the end of September.
We are looking forward to meeting you soon!
Rainer Erdmann
June 3, 2021
Aim and purpose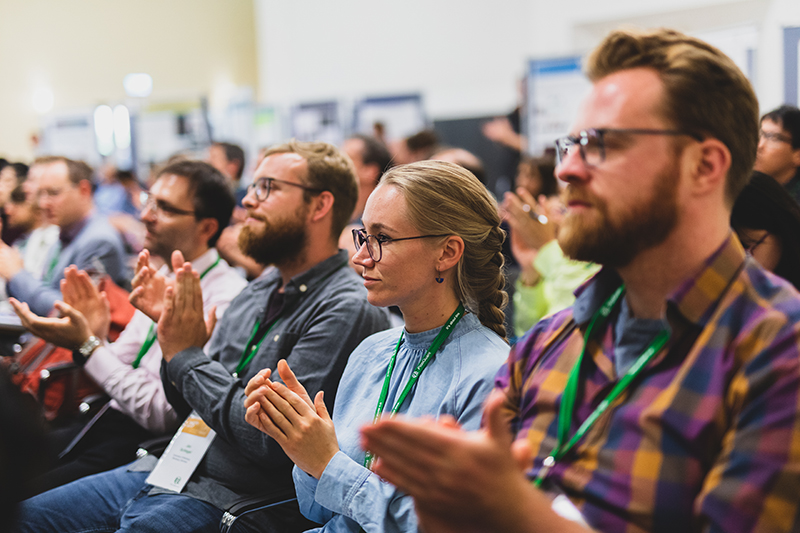 The focus of PicoQuant's long-standing workshop lies on ultrasensitive optical detection down to the single molecule level as well as beyond the classical diffraction limit. The event provides an interdisciplinary platform for exchanging ideas and recent results between researchers and professionals working in the fields of physics, chemistry, biology, life and materials science.
During the workshop, talks and posters are presented that cover a wide range of applications and methods revolving around the challenging field of Single Molecule Spectroscopy.
Covered topics include:
Fluorescence Lifetime Imaging (FLIM)
Single molecule Förster Resonance Energy Transfer (smFRET)
Polarization and Anisotropy based techniques
Quantitative imaging methods
New fluorescence sensors and labeling schemes
Fluorescence Correlation Spectroscopy (FCS) and Fluorescence Lifetime Correlation Spectroscopy (FLCS)
Stimulated Emission Depletion (STED) microscopy
Single Molecule Localization Microscopy (e.g., PALM, STORM, dSTORM, GSDIM, PAINT)
Open source data analysis solutions
Big Data and Machine Learning approaches to superresolution and single molecule techniques
Both widefield and confocal fluorescence microscopy techniques are covered as well as in vivo and in vitro measurements with single molecule sensitivity.
Impressions from the past
To get an impression of our Single Molecule Workshops have a look at the video below or browse through our workshop archive.
Student award
As nurturing young scientists is important to PicoQuant, we host a competition for the "Best Student Talk" with an award worth 750 Euro. Undergraduate and graduate students are invited to submit their contributions until August 2, 2021. Please indicate during the registration/abstract submission if you wish to participate in the contest.
Important dates
Deadline for submission of abstracts: August 2, 2021
Deadline for early bird registration: August 2, 2021
Deadline for a fee waiver application: August 2, 2021
Final deadline for workshop registration: September 3, 2021
Notification on acceptance of abstracts: end of August 2021
Program available: end of August 2021
Conference on Single Molecule Spectroscopy at BiOS 2022
Within the Biomedical Optics Symposium BiOS, PicoQuant is co-organizing the special conference "Single Molecule Spectroscopy and Superresolution Imaging XV" (BO503). Exciting presentations with the latest findings and developments can be expected.
As a special motivation for young researchers, PicoQuant is presenting the "Young Investigator Award" as part of this conference. Young scientists (age 30 or below and not yet full faculty members) are encouraged to participate in this best paper competition, which offers a $750 USD cash award. For more details, please go to the BiOS Best Paper Awards website.
Future workshop
Save the date: September 7-9, 2022
Contact
Workshop coordinator: Jana Bülter
Tel: +49-30-1208820-87
Fax: +49-30-1208820-90
Email: workshop@picoquant.com

Please note: schedule and content of this event is subject to change without notice.

Invited speakers and their tentative titles
Abstract guidelines
The abstract submission is open. The deadline for abstract submissions is August 2, 2021.
Abstracts can be submitted for contributed talks and poster presentations.
Abstracts can only be submitted along with the registration for the workshop.
Abstracts must be submitted in English containing not more than 200 words (body text) and no graphics.
Post deadline abstracts may be considered for poster presentations only (not for oral presentations) and are subject to availability.
Abstracts will be included and provided to workshop participants online and/or in an abstract book.
Program
The program will be online end of August 2021.
Workshop fees
| | until August 2, 2021 | August 3, 2021 until September 3, 2021 |
| --- | --- | --- |
| Academic/University | 340 € | 390 € |
| Industry and Private Sector | 750 € | 950 € |
Besides full workshop attendance, the fee includes coffee breaks, a reception with food and drinks, lunches, and an abstract book. Attendees will be responsible for their own travel, lodging, and additional meals.
Please note the terms and conditions
For payment you can choose between credit card (Visa, Master Card) and bank transfer. Possible bank charges have to be paid by the participant. Please note, that we do not accept checks.
After online registration, you will receive an email notification including a PDF file that includes information on the payment procedure.
For registrations received until August 2, 2021, payment is due until August 15, 2021. For all later registrations payments have to be received within 14 days after date of registration.
We will send an email confirming your participation once we have received your payment. If payment is overdue, your registration will not be processed and considered invalid.
A receipt of payment will be included in our email confirmation of participation.
Cancellation of registration must be submitted in writing or via email and is valid only with acknowledgment of receipt by PicoQuant GmbH. A refund of registration fees is dependent on the notice given:

For cancellations made until August 2, 2021, 100 % of the registration fee will be reimbursed. In case of cancellations after August 2, 2021, 75 % of the registration fee will be reimbursed. In case of cancellations after September 3, 2021, 25 % of the registration fee will be reimbursed.
It is possible to name and send a substitute participant.

No visa letters will be issued until payment of the registration fee is received and confirmed.
Schedule and content of this event is subject to change without notice.
PicoQuant records photographs and video material (including audio) of participants at the events. By registering for a PicoQuant event, you agree that we may include pictures or video material of yourself (either as a full image or in parts) for promotional purposes in various publications (press releases, promotional activities, event website, social media, etc.). If you do not want us to use pictures or video material in which you appear, please inform us in written form.
Financial support
PicoQuant has a fee waiver program for a small number of participants from universities or academic sector. Accommodation, travel, and personal expenses still need to be paid by the participants themselves. The selection of sponsored people is completely the sole decision of PicoQuant and there is no right or guarantee to receive a fee waiver.
To apply for a fee waiver, please send us your application:
a letter of application and
a formal letter of recommendation from your department/institute
Deadline for a fee waiver application is August 2, 2021.
Please note that only one person per research group can be considered for a fee waiver.
Registration and abstract submission
Workshop location
The workshop will be held in the science and technology park of Berlin-Adlershof, located in the south-eastern part of Berlin, not far from the Schönefeld Airport.
Venue:
Forum Adlershof
Rudower Chaussee 24
12489 Berlin
Local area map showing the symposium location (red marker)
Accommodation
We have negotiated special rates for a limited number of rooms in several hotels/appartment block, located close to the workshop location. The number of rooms as well as booking time are limited and we therefore advise to reserve your room as soon as possible.
Hotels within walking distance to the workshop location
---
Within this tab, you can find information on the current Corona situation in Germany and its effect on the Single Molecule Workshop. We will continuously update the links and information provided on this page. So make sure to regularly check for changes.
Due to the pandemic, international travel has become quite a bit more complicated. You can find the currently applicable rules for travelling to Germany by following the links below. One thing that COVID-19 taught us is that rules can (and do) change quite quickly.
Information on entry restrictions, testing and quarantine regulations by the German Federal Foreign Office
Current information for travellers by the German Federal Minsitery of Health
Be aware that when travelling from Germany back to your country, other rules, restrictions, and regulations will apply. Make sure to also regularly read up on the rules governing travel back to your country.
Remember: when travelling, stay informed and (above all) stay safe!
Archive
The workshop on "Single Molecule Spectroscopy and Ultra Sensitive Analysis in the Life Sciences" is an annual event since 1995. For a summary of each year's event, please select the year from the list below.
Thank you for registering for the Single Molecule Workshop!
An email with the supplied information has been sent to the provided address.
×