Single Molecule Workshop
27th International Workshop on
"Single Molecule Spectroscopy and Super-resolution Microscopy"
September 7 - 9, 2022, Berlin, Germany

Aim and purpose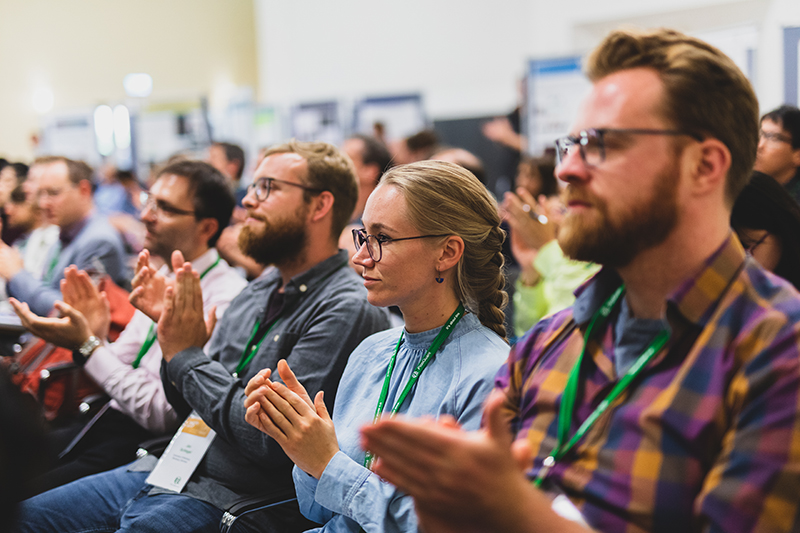 The focus of PicoQuant's long-standing workshop lies on ultrasensitive optical detection down to the single molecule level as well as beyond the classical diffraction limit. The event provides an interdisciplinary platform for exchanging ideas and recent results between researchers and professionals working in the fields of physics, chemistry, biology, life and materials science.
During the workshop, talks and posters are presented that cover a wide range of applications and methods revolving around the challenging field of Single Molecule Spectroscopy.
Covered topics include:
Fluorescence Lifetime Imaging (FLIM)
Single molecule Förster Resonance Energy Transfer (smFRET)
Polarization and Anisotropy based techniques
Quantitative imaging methods
New fluorescence sensors and labeling schemes
Fluorescence Correlation Spectroscopy (FCS) and Fluorescence Lifetime Correlation Spectroscopy (FLCS)
Stimulated Emission Depletion (STED) microscopy
Single Molecule Localization Microscopy (e.g., PALM, STORM, dSTORM, GSDIM, PAINT)
Open source data analysis solutions
Big Data and Machine Learning approaches to superresolution and single molecule techniques
Both widefield and confocal fluorescence microscopy techniques are covered as well as in vivo and in vitro measurements with single molecule sensitivity.
Impressions from the past
To get an impression of our Single Molecule Workshops have a look at the video below or browse through our workshop archive.
Student award
As nurturing young scientists is important to PicoQuant, we host a competition for the "Best Student Talk" with an award worth 750 Euro. More details will be published at a later date
Contact
Workshop coordinator: Jana Bülter
Tel: +49-30-1208820-87
Fax: +49-30-1208820-90
Email: workshop@picoquant.com

Please note: schedule and content of this event is subject to change without notice.

Invited speakers
The list of invited speakers will be published at a later date.
Abstract guidelines
Abstract submission is now closed.
Program
The program of the Single Molecule Workshop will be published at later date.

Workshop fees
The fees structure as well as terms and conditions for participation will be disclosed at a later date.
Registration
Registration will open in Summer 2022.
Workshop location
The workshop will be held in the science and technology park of Berlin-Adlershof, located in the south-eastern part of Berlin, not far from the Schönefeld Airport.
Venue:
Forum Adlershof
Rudower Chaussee 24
12489 Berlin
Local area map showing the symposium location (red marker)
Archive
The workshop on "Single Molecule Spectroscopy and Ultra Sensitive Analysis in the Life Sciences" is an annual event since 1995. For a summary of each year's event, please select the year from the list below.
Thank you for registering for the Single Molecule Workshop!
An email with the supplied information has been sent to the provided address.
×