PicoQuant - It's about time Time-Resolved Microscopy Course
11. European Short Course on "Time-resolved Microscopy and Correlation Spectroscopy"
February 19-21, 2019 in Berlin, Germany
Aim and purpose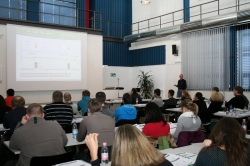 The course is intended for individuals wishing an in-depth introduction to the principles of time-resolved fluorescence microscopy and its applications to the Life Sciences. Attendees are usually professionals who are using or intend to use fluorescence microscopy in their research. Most attendees have some knowledge of fluorescence, typically in a specialized area. However, other individuals from totally different research areas and from industry get the opportunity to enter this exciting field in a very effective way and benefit especially from the experimental section.
Practical sessions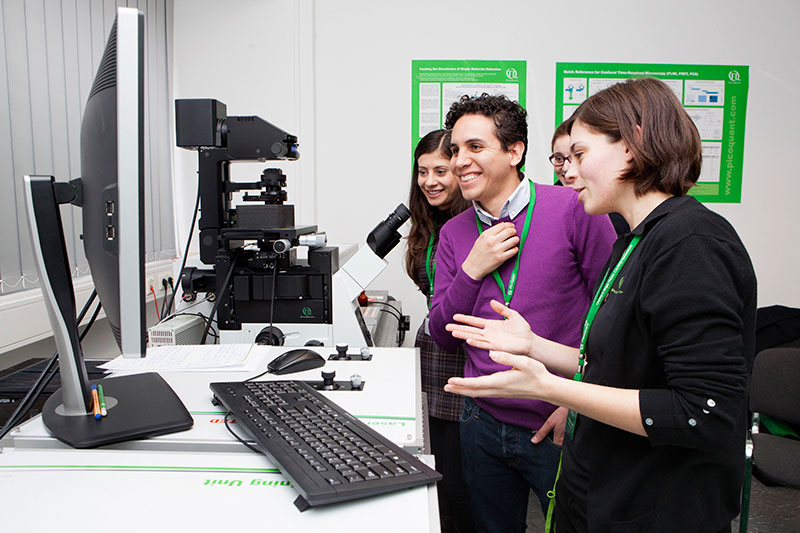 Practical sessions using confocal microscopes provided by several market leading companies are part of the course:
Nikon
Olympus
Zeiss
PicoQuant
Participants will be divided into groups that rotate through the stations. This ensures that every participant will have the chance to familiarize himself with the broad range of techniques and methods of fluorescence (lifetime) microscopy.
Topics covered
Topics covered during the lectures and experimental station include:
Important dates
Registration is open

Deadline for early bird registration: November 13, 2018

Final deadline for course registration: January 16, 2019

Deadline for application for a fee waiver: November 13, 2018
SymPhoTime Training Day
One day after the course, on February 22, 2019, PicoQuant will host the "SymPhoTime Training Day" for users of the SymPhoTime and SymPhoTime 64 software.
For details visit the event website.
We will announce more details later.
Contact
Course coordinator: Kerstin Wicht

Tel: +49-30-1208820-87
Fax: +49-30-128820-90
Email: trfcourse@picoquant.com

Please note: schedule and content of this event is subject to change without notice.
Course instructors
The list with instructors will be announced later.
Course location
The 11th course will be held in the "Max-Born-Saal" in Berlin-Adlershof, located in the south-east of Berlin. The local area map below shows the course location (green marker) and hotel locations (blue markers).
The 11th short course will be held in Berlin-Adlershof, located in the south-east of Berlin. Details on the course and hotel locations will be available in September 2018.
Schedule
The time schedule of the course will be announced later.
The time schedule of the course is also available for download.
Tuesday,
February 19
Wednesday,
February 20
Thursday,
February 21
8:15
Registration
9:00
Mark Hink
Introduction to Fluorescence Correlation Spectroscopy
9:00
Jörg Enderlein
Single Molecule Spectroscopy and Superresolution Imaging
8:45
Welcome and Introduction
10:30
Coffee Break
10:30
Coffee Break
9:00
Jan Willem Borst
Introduction to Microscopy
11:00
Chris Dunsby
Fluorescence Lifetime Imaging
11:00
Fred Wouters
Förster Resonance Energy Transfer
10:30
Coffee Break
12:30
Lunch Break
12:30
Lunch Break
11:00
Andreas Bülter
Instrumentation for Time-resolved Microscopy
14:00
Practical Session III
14:00
Practical Session V
12:30
Group Picture and Lunch Break
16:00
Coffee Break
16:00
End of Course
14:00
Practical Session I
16:30
Practical Session IV


16:00
Coffee Break
18:30
Spare Time


16:30
Practical Session II
18:45
Opening Reception
Also see our SymPhoTime Training Day that takes place February 22, 2019 in Berlin.
Registration
Thank you for registering for the Time-Resolved Microscopy Course!
An email with the supplied information has been sent to the provided address.
×