 Practical Manual for Fluorescence Microscopy Techniques
---
Practical Manual for Fluorescence Microscopy Techniques
Authors: Sohail Ahmed, Andrew H. A. Clayton, Andreas Herrmann, Martin Hof, Thomas Korte, Radek Machán, Jean-Baptiste Sibarita, Thankiah Sudhaharan, Graham Wright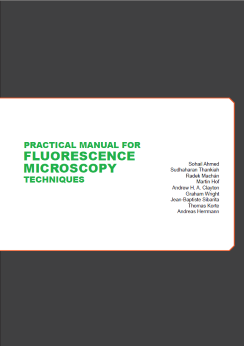 This practical manual is the result of many courses and workshops held at the Institute of Medical Biology in Singapore between 2001 and 2016. It is a handy resource for anyone interested in the F-techniques and seeks to help scientists in implementing and utilizing them.
The manuals focus lies on the core F-techniques FRET, FLIM, FCS, and FRAP, but recognizes recent developments that lead to many interesting variants currently in use, such as fluorescence cross correlation spectroscopy (FCCS).
Since PicoQuant participated in some of these courses and supports the idea of fostering knowledge of microscopy techniques, we decided to provide the layout for this collection and help in the distribution of this manual to scientists.
Download