 rapidFLIMHiRes
Visualize dynamic processes with ultra fast FLIM imaging and outstanding 5 ps time resolution
Interested in ultra fast FLIM imaging with 5 ps time resolution? Try PicoQuant's rapidFLIM
HiRes
approach, which redefines Fluorescence Lifetime Imaging (FLIM) by combining fast data acquisition with a 5 ps time resolution for reliable, quantitative analysis. Increased data acquisition speed without sacrifices in lifetime resolution allows studying fast processes such as protein interactions, fast changes in environmental parameters, metabolic imaging, or high throughput FLIM screening.
Check out our
white paper
and
webinar recording
for more insights into rapidFLIM
HiRes
.
rapidFLIM
HiRes
is available for PicoQuants's LSM Upgrade Kits and as a special configuration for the time-resolved fluorescence microscope MicroTime 200.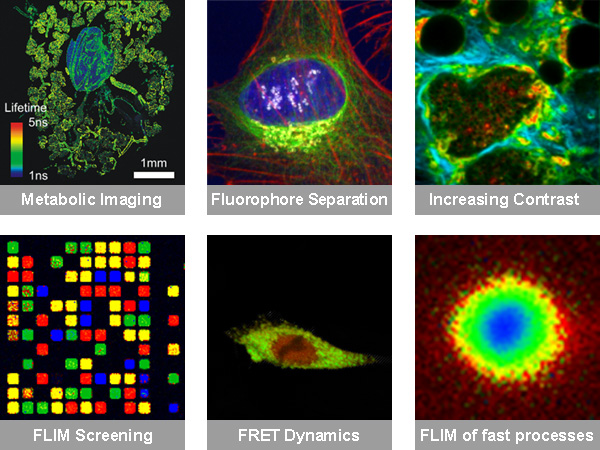 White Paper
Free white paper: "Visualize dynamic processes with rapidFLIMHiRes, the ultra fast FLIM imaging method with outstanding time resolution". The white paper provides an outline of the general principles underlying rapidFLIMHiRes as well as a series of application examples highlighting the usefulness of this method. A quick run-down of the hardware requirements for implementing rapidFLIMHiRes rounds this application note out.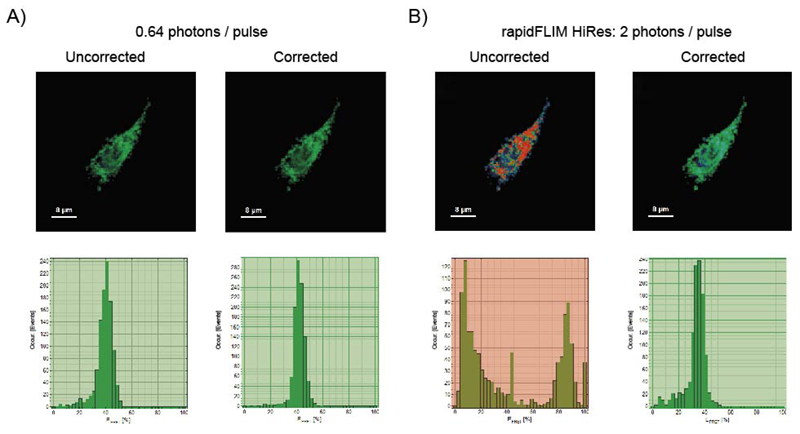 Webinar
Watch the recorded webinar about rapidFLIMHiRes that was held on October 1, 2020 to learn more about this exciting imaging method. PicoQuant's application specialist Maria Loidolt-Krüger showcases the latest hardware and software developments that allow for rapidFLIM data acquisition and quantitative data analysis. Learn how this method can help you in visualizing dynamic processes in cells or tissues.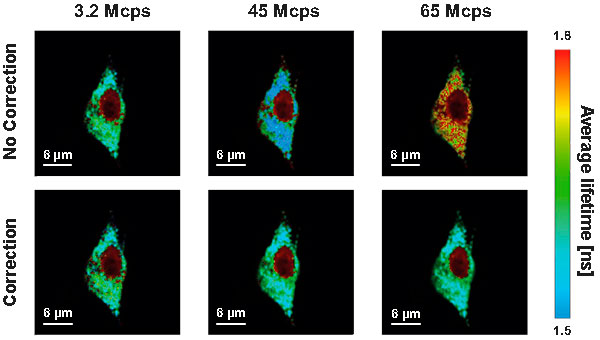 Application Examples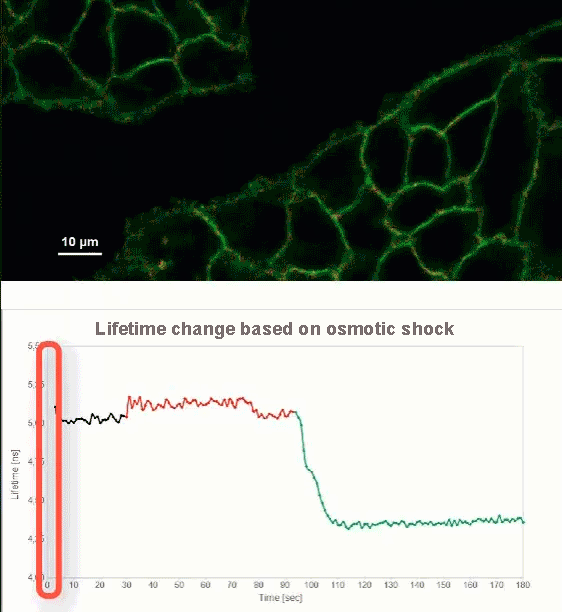 Intracellular Ca2+ signals induced by mechanical stimulation of HEK-cells loaded with Oregon-Green-Bapta-1. In this video, the top two cells were mechanically stimulated which leads to a change in fluorescence lifetime.
Sample and data courtesy of M.Sc. Jan Meyer and Prof. Dr. Christine R. Rose (Institut fuer Neurobiologie, HHU Duesseldorf)
Monitoring changes in membrane tension with rapidFLIMHiRes in MDCK cells undergoing osmotic shock. The cell membranes contain a fluorescent tension reporting probe (Flipper-TR®). Upon undergoing osmotic shock, a rapid reduction in fluorescence lifetime of Flipper-TR® can be observed.
rapidFLIMHiRes is available with the following products
LSM Upgrade Kit
PicoQuant's LSM Upgrade Kits now include all components needed for performing rapidFLIM
HiRes
: a
MultiHarp 150 4P TCSPC unit
, appropriate detectors from the
PMA Hybrid Series
, and the
SymPhoTime 64
system software. Check out the LSM Upgrade Kit product page for more details.
MicroTime 200 with FLIMBee galvo scanner
rapidFLIM
HiRes
experiments are also possible with a MicroTime 200 equiped with a FLIMBee galvo scanner, a
MultiHarp 150 TCSPC unit
along with
PMA Hybrid detectors
possessing a very low effective dead time. The MicroTime 200 is a time-resolved confocal fluorescence microscope with unique single molecule sensitivity, enabling the realisation of several modalities like FLIM, FCS, STED, anisotropy imaging, antibunching measurements in the same microscopic platform.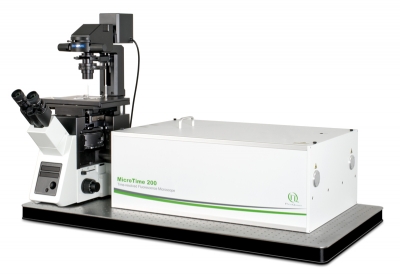 Contact
If you have any questions concerning rapidFLIM
HiRes
, please contact us at
info@picoquant.com
.
It's about time.