 Fluorescence Course
1st European short course on
"Principles and Applications of Time-resolved Fluorescence Spectroscopy"
October 20 - 24, 2003 in Berlin, Germany

This course is held in cooperation with Prof. J.R. Lakowicz from the Center for Fluorescence Spectroscopy & the Department of Biochemistry and Molecular Biology, University of Maryland School of Medicine, Baltimore, Maryland, USA
Summary
This course was held in Europe for the first time and was a great success. Altogether 86 people from universities and industry from more than 15 countries participated. They attended 17 lectures and 3 hands-on experiment sessions with 10 different instruments covering different methods and procedures in fluorescence spectroscopy.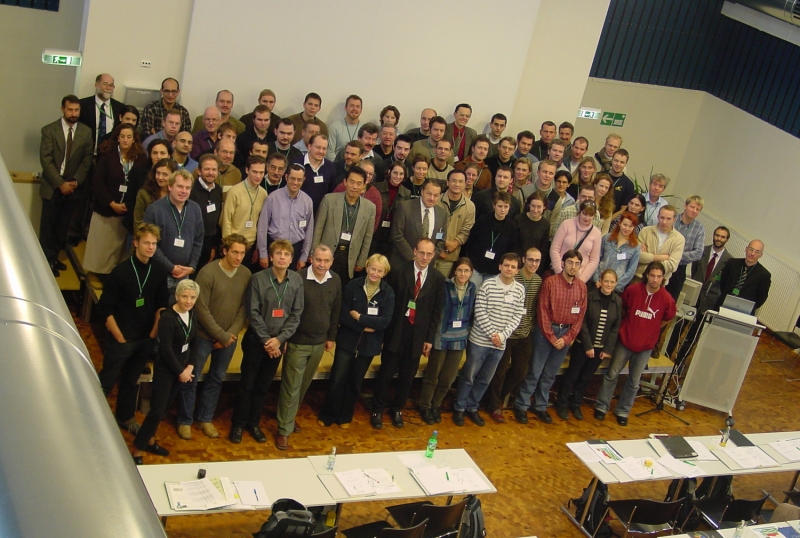 Aims and Purpose
The course is intended for individuals wishing an in-depth introduction to the principles of fluorescence spectroscopy and its applications to the Life Sciences. Attendees are typically professionals who are using or intend to use fluorescence in their research. Most attendees have some knowledge of fluorescence, typically in a specialized area. However, also individuals from totally different areas as well as from industry get the opportunity to enter this exciting field in a very effective way and benefit especially from the experimental section.
Course organisation
The course was offered in two sections. Part I was primarily basic principles, and Part II went into details and stressed applications.
I. Principles of Fluorescence Spectroscopy
Part I covered the basics of steady state and time-resolved fluorescence spectroscopy and instrumentation, and was designed for individuals who are not experts. Section I covered time- and frequency-domain measurements, anisotropy, solvent effects, quenching and Foerster energy transfer, as well as an introduction into data analysis.
II. Time-Resolved Fluorescence Spectroscopy, Principles, Instrumentation and Applications
Part II emphasised time-resolved fluorescence, together with advanced applications of fluorescence in biophysics, sensing, imaging, clinical chemistry, multi-photon excitation and ultrasensitive detection. Part II included guest lectures on fluorescence microscopy, multi-photon microscopy, correlation spetroscopy, single molecule detection and fluorescence markers as well as high-thoughput screening.
Parts I and II consisted of lectures and a certain portion of hands-on experimentation (steady state and time-resolved experiments)
Hands-on instrumentation
The following companies offered hands-on experiments during the course:
Varian
Spex/JY/Horiba
Olympus
Tecan
PicoQuant
Course instructors
Joseph R. Lakowicz, Professor of Biochemistry and Director of the Center for Fluorescence Spectroscopy
Richard Thompson, Assistant Professor of Biochemistry and specializes in fiber-optic sensing and medical diagnostics.
Rainer Erdmann, Managing Director of the R&D company PicoQuant GmbH and specialist in ultrasensitive fluorescence analysis
Michael Wahl, Senior Scientist at PicoQuant GmbH and specialist in instrumentation for time-correlated single photon counting
Guest lecturers
Manfred Auer, Head of Innovative Screening Technologies (IST) at the Novartis Lead Discovery Center, as well as Univ. Dozent for Biophysical Chemistry at the University of Salzburg, Austria. He specializes in the development of novel drug discovery technologies.
Jörg Enderlein, Head of the Single Molecule Detection group at FZ Juelich and specializes in Single Molecule Detection, fluorescence correlation spectroscopy and complex data analysis.
Stefan Hell, Director of the High Resolution Optical Microscopy Group at Max Planck Institute for Biophysical Chemistry, Göttingen, Germany and specializes in new methods for microscopy with improved resolution and other innovative forms of biological imaging.
Otto S. Wolfbeis, Professor and Vice Rector/President at Regensburg university and specializes in design and synthesis of long-wavelength and long-lifetime fluorescent bioprobes and on fluorescence based optical sensors.
Schedule
The time schedule and program are still available for download as pdf documents.
Archive
The European short course on "Principles and Applications of Time-resolved Fluorescence Spectroscopy" is an annual event since 2003. For further details about each year's event, please select the year from the list below.
Thank you for registering for the Fluorescence Course!
An email with the supplied information has been sent to the provided address.
×