 Picosecond Pulsed Sources
Prima NEW
3-Color Picosecond Laser
3-Color Picosecond Laser (450, 515, 640 nm)
Compact, stand alone, affordable
Pulsed and CW operation, fast CW switching
Suitable for measuring Fluorescence lifetime (ns) and Photoluminescence lifetime (µs-ms)
Triggerable internally and externally, up to 200 MHz
Fully computer controlled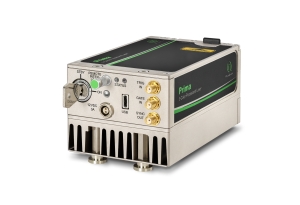 Download our poster including two exemplary applications using Prima.
As soon as you have submitted the form, you will receive a download link to the poster via e-mail.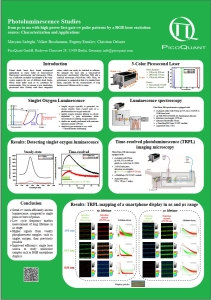 "We can perform about 90% of our spectroscopy experiments with the three excitation wavelengths provided by Prima. Prima can greatly simplify our optical set-up thanks to its small size and fiber output, which facilitates its use."
Dr. Alexandre Fürstenberg
Group leader and senior lecturer (MER), University of Geneva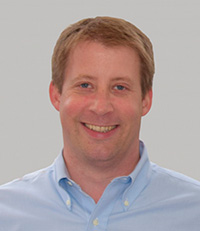 Prima is a solution for researchers who
need more than one wavelength
don't have space in the lab
measure a short decay time (ns) and a long one (µs-ms)
deal with materials that have a poor luminescence quantum yield
would like to avoid daily alignment and laser maintenance

Red, green, and blue: the three most utilized wavelengths
Each colour can be generated individually, one at a time. These wavelengths are the three most commonly used in materials science, chemistry and life science for routine excitation in spectroscopy or microscopy applications to study a wide range of samples, including novel nanomaterials or quantum dots.
Pulsed, CW, and fast switched emission modes
Prima offers full flexibility, enabling you to perform time-resolved or steady-state measurements. Fast cw switching is a smart solution for measuring longer lifetimes in the µs to ms range. It is especially efficient for materials with a poor luminescence quantum yield. The pulsed mode can be driven either internally at selected repetition rates between 100 Hz and 200 MHz or externally, with rates ranging from single shot up to 200 MHz. Moreover, you can combine Prima with other laser diode heads to create even more sophisticated excitation patterns, such as bursts, Pulse Interleaved Excitation (PIE), or Alternative Laser Excitation (ALEX).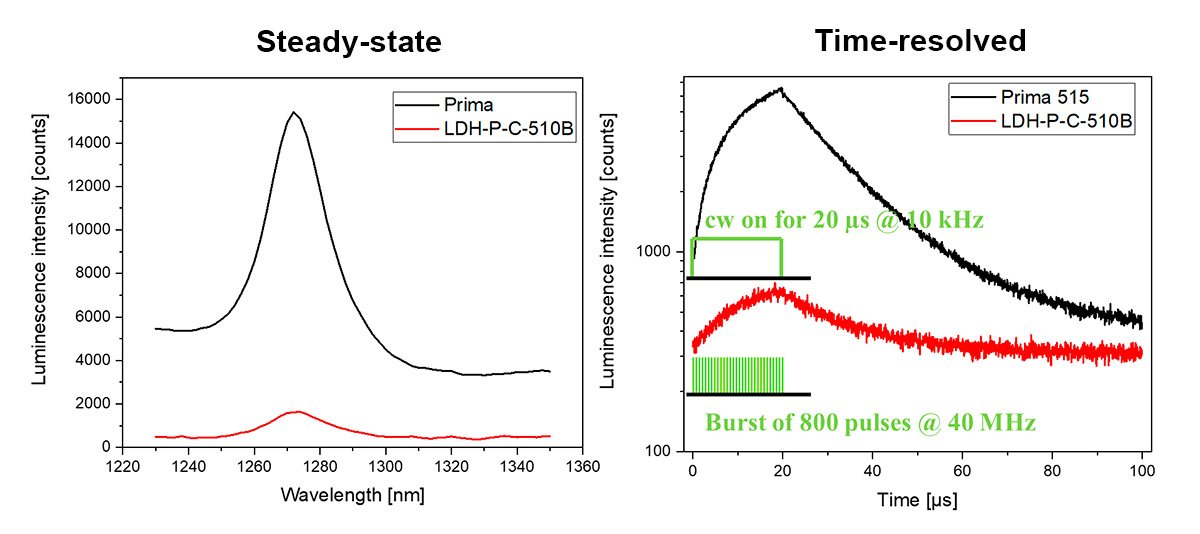 General specifications
Optical out
Available wavelengths1 [nm]
450
515
640
Max pulsed power2 [mW]
10
10
10
Pulse duration [ps]
< 100
< 170
< 100
Max CW power [mW]
50
50
50
Beam dimension3 [mm]
0.55 ± 0.10
0.6 ± 0.10
0.8 ± 0.10
Beam circularity
typ. > 0.5
typ. > 0.5
typ. > 0.5
Polarization
typ. linear
Polarization Extinction Ratio (PER)
typ. > 1:10 (> 10 dB)
Spectral width FWHM [nm] (pulsed)
< 4 nm
< 6 nm
< 2 nm
Spectral width FWHM [nm] (CW)
< 2 nm
< 3 nm
< 2 nm
Repetition rates
Internal
Range
User selectable 1 kHz to 200 MHz
1000 increments of 1 kHz from 1 to 999 kHz
200 increments of 1 MHz from 1 to 200 MHz
External
Range
0 Hz to 200 MHz
Trigger level
-1V ... +5V into 50 Ohm
Jitter
< 20 ps
Connector
SMA
Synchronization output
Amplitude
< -800 mV into 50 Ohm (NIM)
Connector
SMA
Gating
Rise / Fall Time
< 3 ns
ON Time Gate
freely adjustable from < 10 ns to 1 ms
OFF Time Gate
(as a factor of ON Time Gate)
freely adjustable from 1 to 255
Impedance
10 kOhms with pull-up
50 Ohms with pull-down
Connector
SMA
Dimensions
Size (h x w x l)
75 x 83 x 140 mm
Weight
approx. 1 kg
Operation
Temperature range
15 – 35 °C
Rel. humidity
< 80 % (non condensing)
Maximum power consumption
< 30 W
Interface
PC interface
USB 2.0
Connector
USB-C
Operating system
WindowsTM 10
1 Typical value in Pulsed mode. A slight shift to longer wavelengths in CW mode.
2 This is the maximum average power at maximum intensity setting and max repetition rate. A pulse broadening up to 500 ps FWHM is possible at maximum intensity setting.
3 Measured at 1 m distance from laser aperture.


All Information given here is reliable to our best knowledge. However, no responsibility is assumed for possible inaccuracies or omissions. Specifications and external appearances are subject to change without notice.
The Prima 3-Color Picosecond Laser can be used for various applications. It is the ideal tool for covering most of your daily needs when it comes to exciting a broad range of samples for tasks such as
The following documents are available for download