PicoQuant - It's about time August 17, 2017
SymPhoTime 64 – new software version released
Novel reconvolution fitting models for rapidFLIM measurements involving multi exponential lifetime decays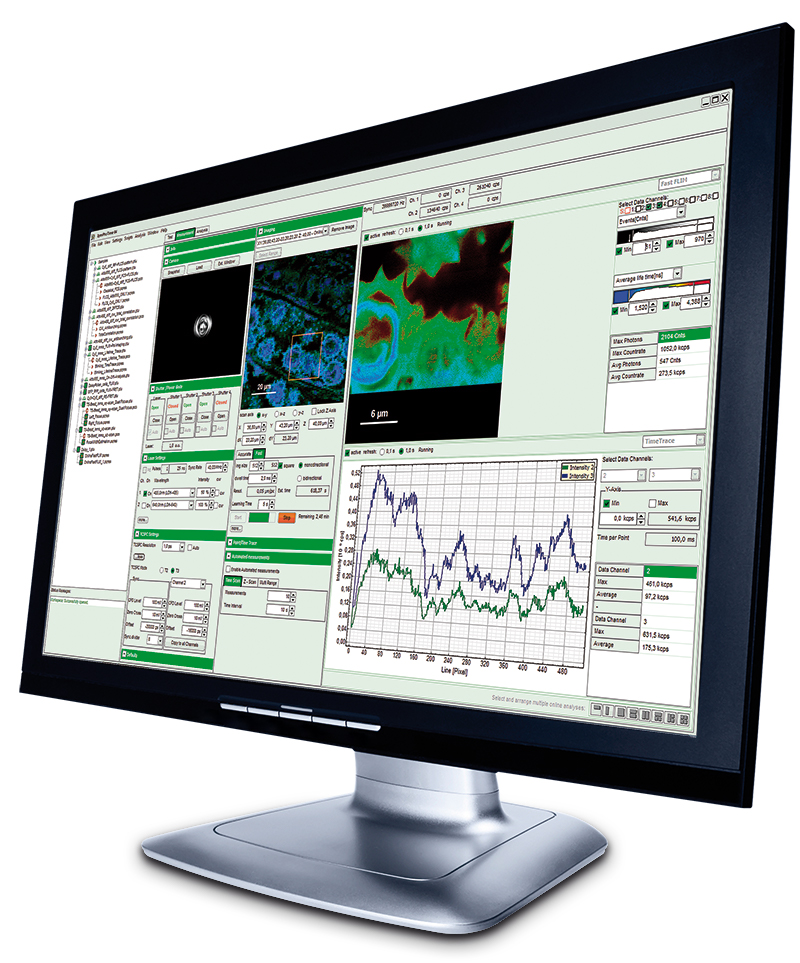 PicoQuant is releasing a new version of the SymPhoTime 64 fluorescence imaging and correlation software package for the time-resolved MicroTime 200 microscopy platform. Beyond regular fixes and improvements, this update includes a special highlight for rapidFLIM users. Novel reconvolution fitting models (patent pending) are now included for correcting detector pulse pile up occurring in fluorescence lifetime imaging (FLIM) experiments performed at high count rates. These new models extend accurate fitting and analysis of rapidFLIM data to cases where multi exponential lifetime decays are involved.
The SymPhoTime 64 software package is the integrated solution for data acquisition and analysis using PicoQuant's time-resolved confocal microscope MicroTime 200, LSM upgrade kits or TCSPC electronics. Its clearly structured layout and powerful analysis routines allow the user to focus on the results rather than on the data processing.
The rapidFLIM approach enables fluorescence lifetime imaging of dynamic processes at very high detector count rates and allows studying processes such as protein interactions, chemical reactions, ion fluxes, highly mobile species, or even investigating FRET dynamics. More than 10 frames per second can be acquired, depending on sample brightness and image size.
Recent news
December 21, 2018
---
December 10, 2018
---
November 29, 2018
---
All News