 Single Molecule Fluorescence Workshop
3rd Hands-On Workshop on
"Making Single Molecule Fluorescence (Lifetime) Measurements Simple"

Summary
The third workshop of its kind was again outstanding. Finally, nearly 50 researches participated in this event and enjoyed 16 lectures as well as hands-on experimentation on a MicroTime 200, a MicroTime 100, a FluoView 1000 from Olympus upgraded to FLIM & FCS capabilities as well as a time-resolved CARS setup. New research topics in single molecule spectroscopy were presented and establised as well as new emerging methods were discussed. This workshop was again the perfect event to start networking and for many nice discussions about new interesting ideas and concept.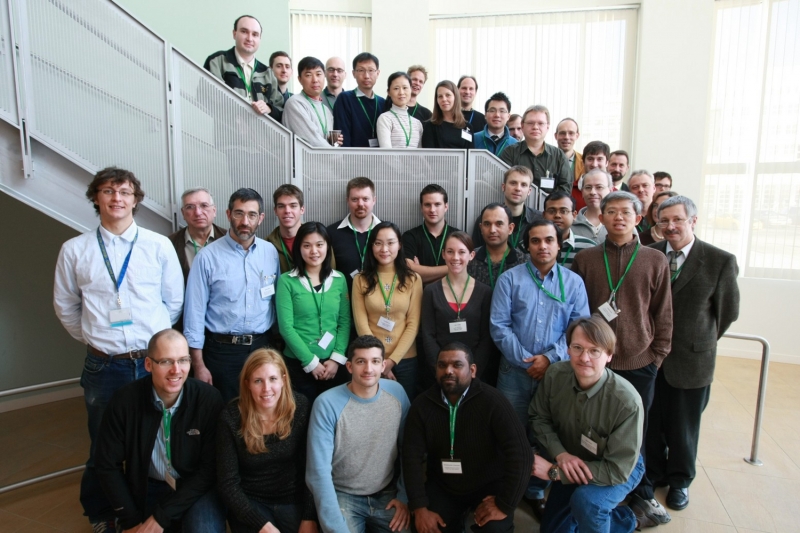 Invited Speakers and their titles
William A. Eaton (NIH, Bethesda, USA)
"Applications of single molecule fluorescence measurements to the protein folding problem"
Ammasi Periasamy (W.M. Keck Center for Cellular Imaging , Charlottesville, USA)
"Monitoring protein-protein interactions in living specimens: which technique is good?"
Zygmunt "Karol" Gryczynski (University of North Texas, Fort Worth, USA)
"Single Molecule Immunoassay - Nanophotonic Approach"
Christian Eggeling (MPI Göttingen, Germany)
"Far-Field Microscopy with Nanoscale Resolution"
Jörg Enderlein (University of Tübingen, Germany)
"Single Molecule Fluorescence Spectroscopy"
Alexey Ladokhin (University of Kansas Medical Center, Kansas City, USA)
"FCS Study of pH-Triggered Membrane Protein Insertion "
Ted Laurence (Lawrence Livermore National Laboratory, Livermore, USA)
"Single molecule study of a processivity clamp sliding on DNA and confocal fluorescence lifetime imaging of optical materials"
Laura Marcu (UC Davis, Sacramento, USA)
"Fluorescence Lifetime Spectroscopy of Biological Tissues"
Markus Sauer (University of Bielefeld, Germany)
"Fluorescence Techniques to Study Optical Switches, Waveguides, and (Bio)molecular Dynamics at the Single-Molecule Level"
Peter Kner (University of California at San Francisco, USA)
"Enabling High-Resolution Imaging Deep In Live Tissue With Adaptive Optics"
Thomas Dertinger (University of California, Los Angeles, USA)
"Two-Focus-FCS - monitoring structural changes of biomolecules"
Thomas Huser (UC Davis, Sacramento, USA)
"Time-resolved multiphoton fluorescence and CARS microscopy"
Samantha Fore (UC Davis, Sacramento, USA)
"Single molecule protein interaction studies using FCS inside metal nano-apertures at physiologically relevant concentration"
Felix Koberling (PicoQuant GmbH, Germany)
"The MicroTime 200 - An All In One Solution For Time-Resolved Confocal Microscopy"
Uwe Ortmann (PicoQuant GmbH, Germany)
"FLIM and FCS Upgrade Kit for Laser Scanning Microscopes"
Program
The program of this workshop is still available for download as a PDF document.
Archive
The following international workshops or courses have been organized by PicoQuant GmbH along with a local research institute in the recent years.
---
---
---
---
---
---
---
---
---
---
---
---
---
---
---
---
---
---
---
---
---
---
---
---
---
---
---
---
---
---
---
---
---
---
---
---
---
---
---
---
---
---
---
Thank you for registering for the Single Molecule Fluorescence Workshop!
An email with the supplied information has been sent to the provided address.
×