 January 13, 2023
Our highlights at Photonics West 2023
Drop by at our booths 8825 and 3325
Ten of our experts are looking forward to meeting you and the whole photonics community in person January 28 - February 2, 2023 at the SPIE Photonics West 2023 in San Francisco. This year, we are bringing exciting innovations in all three product lines with us:
First and foremost, Luminosa, our brand new single photon counting confocal microscope. Next, Prima, a compact three-color picosecond laser module. Finally, novel features for the MultiHarp 150 and MultiHarp 160, our high-throughput event timers with up to 64 channels.
So come by our booths to see these and other new products live and to catch up with our specialists.
BiOS exhibition: booth 8325
Photonics West exhibition: booth 3325
You may also contact us in advance to make an appoinment with one of our colleagues: info@picoquant.com
Product highlights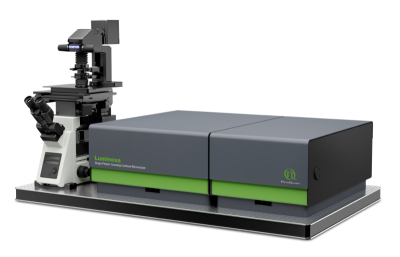 Luminosa - Single Photon Counting Confocal Microscope
Quantitative time-resolved fluorescence techniques like FLIM, FCS, and single molecule FRET (smFRET) are increasingly employed in cell biological research to monitor, e.g., phase separation, or protein conformational changes and interactions. So far, the methods were adopted slowly because expert knowledge was required. And as more researchers use these tools, challenges related to reproducibility, accuracy, and "good practice" appear. PicoQuant's new confocal microscope Luminosa combines state-of-the-art hardware with cutting edge software to deliver high quality data while simplifying daily operation. The software includes context-based workflows, which improve reproducibility of experiments. New features such as sample-free auto-alignment, or excitation laser power calibration make experiments more efficient. Still, every optomechanical component is fully accessible to enable development of new methods.
Dr. Felix Koberling will present two use cases:
First, he will show how Luminosa brings smFRET to a new level. For example, FRET efficiency (E) and stoichiometry (S) are calculated online, corrected according to the standard procedure of the community, and displayed live in an E/S histogram during the measurement.
Talk 12386-7, 28 January 2023 • 2:00 PM - 2:20 PM PST
Second, Dr. Koberling will describe how FLIM is streamlined. Luminosa's rapidFLIM hardware can record several fps with high photon count rates, which the software handles with a novel dynamic binning format. In combination with GPU-accelerated algorithms, this enables high-speed automated analysis of FLIM images.
Invited Talk 12384-18, 30 January 2023 • 8:20 AM - 8:40 AM PST
For a Luminosa demonstration drop by at our BiOS booth 8325 and Photonics West booth 3325.
---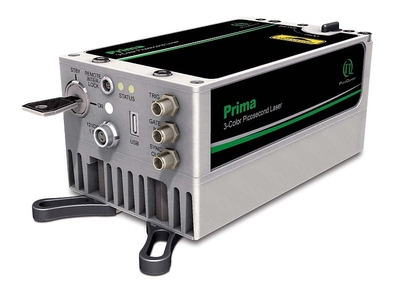 Prima - 3-Color Picosecond Laser
Prima is a compact, stand-alone, and affordable laser module offering three emission wavelengths at 450, 515, and 640 nm. It can be operated in picosecond pulsed or cw mode and features a novel fast CW switching capability.
Come by Dr. Maryam Sadeghi's Poster 12441-44 on 1 February 2023 • 6:00 PM - 8:00 PM PST for more details, particularly about measurements of long luminescence lifetimes in the µs range with Prima.
---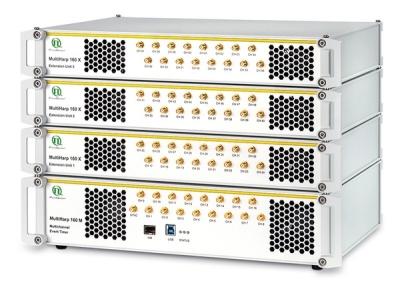 MultiHarp 160 and MultiHarp 150 High Throughput Event Timers
PicoQuant's newest event timers are the MultiHarp 150 and MultiHarp 160. They enable high-throughput photon counting in up to 32 or even 64 detector channels, and can now be complemented by PDA-23, a 23 channel SPAD array detector.
Visit Dr. Felix Koberling's Talk 12384-24 on 30 January 2023 • 11:20 AM - 11:35 AM PST to learn about SPAD-arrays for confocal fluoresence lifetime imaging.
---
Scientific presentations by PicoQuant
Talks:
Posters:
---
PicoQuant hosts single molecule session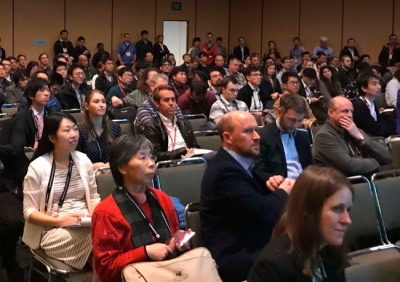 Join the well established 16th "Single Molecule Spectroscopy and Superresolution Imaging" BiOS conference on January 28 – 29 for six sessions full of inspiring talks and discussions about
new technologies, methods, and labels
FLIM, FRET, and FCS/Correlation
Superresolution Microscopy/Nanoscopy
The sessions will be chaired by Rainer Erdmann (Managing Director of PicoQuant), Felix Koberling (Head of Development Microscopy, PicoQuant), Mike Heilemann (Goethe University Frankfurt, Germany) and Ingo Gregor (University of Göttingen, Germany).
We will also hold our traditional "Young Investigator Award" competition during this conference. The best talk by a young scientist will be awarded a prize of 750 USD.