PicoQuant - It's about time May 17, 2018
New microscope installed at the University of Leeds
PicoQuant teamed up with JPK Instruments to provide a highly sensitive tool for a wide range of life science applications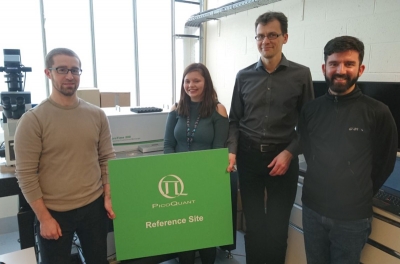 In a joint effort by PicoQuant and JPK Instruments, a highly versatile microscope which combines Atomic Force Microscopy (AFM) with Fluorescence Lifetime Imaging (FLIM) has been installed at the University of Leeds.
This integrated solution enables researchers to obtain structural information from biological samples with resolutions down to the molecular level while recording the fluorescence behavior of a wide variety of probes from the same sample area. Thanks to a seamless integration, the system can provide combined AFM and optical/FLIM information in a very simple and straightforward way.
The installed FLIMbee galvo scanner from PicoQuant provides researchers with high flexibility in scanning speeds, making it possible to not only accurately measure short-lived fluorescence decays but also longer lived species.
We are looking forward to see what fascinating results will be achieved with this system!
Recent news
May 20, 2019
---
May 16, 2019
---
May 14, 2019
---
All News