 December 10, 2018
PicoQuant will present its new time-resolved spectrometer FluoTime 250 for the first time to the public at Photonics West 2019
The compact, fully automated system provides easy access to the world of time-resolved luminescence spectroscopy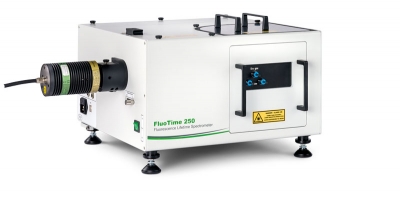 PicoQuant will present its plug and play time-resolved spectrometer FluoTime 250 for the first time to the public at Photonics West, February 2-7, 2019 in San Franscico, CA, USA. Besides this fully automated system, PicoQuant will also present the new event timer MultiHarp 150 and the smart picosecond pulsed diode laser driver Taiko PDL M1.
The FluoTime 250 is a luminescence spectrometer that makes acquiring time-resolved data as simple as plugging it in and start measuring. Thanks to a 25 year long experience in developing high-end diode lasers, spectrometers, and microscopes, PicoQuant distilled the essentials for time-resolved spectroscopy into a compact, fully automated device.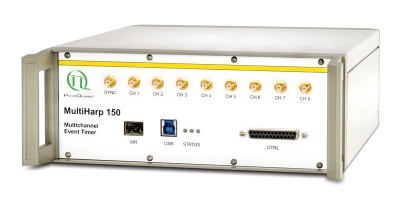 The MultiHarp 150, a high throughput event timer, features 4 or 8 independent detection channels. By combining very high data throughput with outstanding picosecond timing precision and ultra short dead times, it is the ideal device for any application requiring high precision photon counting and time tagging using multiple detectors. This powerful yet easy-to-use event timer is perfectly suited for performing fluorescence lifetime imaging at high frame rates when using multiple detectors.

Another highlight at the Photonics West show is the new smart picosecond laser driver Taiko PDL M1 that offers unmatched operational flexibility for the most demanding applications in life and materials science, semiconductor diagnostic as well as laser-ranging. Featuring both an intuitive local one button control scheme and a versatile remote user interface, operating a laser has never been easier.
Visitors will be able to see PicoQuant's latest developments and to discuss projects with the company's senior scientists at
BiOS booth #8638
Photonics West booths #4869/4875 (North Hall) and #926 (South Hall).
Downloads