 June 29, 2021
PicoQuant improves the MultiHarp 150's temporal resolution
Latest firmware and software updates improve the temporal resolution to 5 ps for the high-throughput multichannel event timer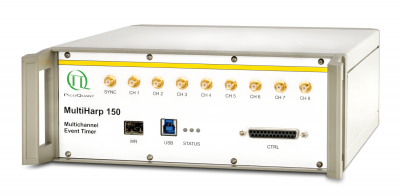 PicoQuant is releasing a free firmware update for several models of its MultiHarp 150 high-throughput multichannel event timers. A major feature of this update is the improvement of the temporal resolution from 10 to 5 ps for the MultiHarp 150 4P, 8P, and 16P, without affecting other parameters like the excellent data throughput or the system's ultrashort dead time. Another new feature the update provides is a programmable input hysteresis for noise suppression in difficult environments. These MultiHarp 150 models provide the best temporal resolution on the market for event timers featuring sub-nanosecond dead time, which makes these devices an ideal choice of TCSPC electronics for fast and precise fluorescence lifetime imaging (rapidFLIM) and high throughput multichannel photon correlation.
"For customers who already own a MultiHarp 150 with 10 ps temporal resolution, the update process is very easy and free of charge." says Dr. Torsten Langer, sales and application specialist for photon counting at PicoQuant. "Customers may contact us and we will gladly guide them through the update process."
Devices from the MultiHarp product line are easy-to-use and versatile USB 3.0 tabletop units with 4 to 64 detection channels and a common SYNC channel, making them a great choice for many time-resolved applications in life and materials sciences, as well as metrology and single photon based quantum technologies. The devices are also prepared for use in White Rabbit timing networks for synchronization over long distances. PicoQuant's confidence in the quality and robustness of the MultiHarp product line is underpinned by a 5-year warranty.
Product page: MultiHarp 150
Contact us for more information: info@picoquant.com