PicoQuant - It's about time February 6, 2018
PicoQuant's Single Molecule Spectroscopy and Superresolution Imaging sessions at Photonics West / BiOS 2018
Outstanding lectures, ample opportunities for networking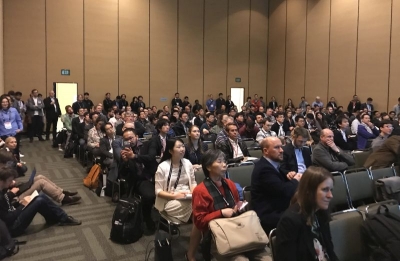 The Single Molecule Spectroscopy and Superresolution Imaging sessions organized by PicoQuant at Photonics West / BiOS 2018 from January 27-28 in San Francisco was an outstanding success. A large audience enjoyed the presentations and lectures by renowned scientists covering a broad range of subjects. Nobel prize winner Stefan W. Hell's presentation on MINFLUX and Xiaoliang S Xie's talk on single cell genomics were the sessions crowning highlights. Informal gatherings and a poster session provided attendees with ample opportunities for fruitful discussions about ideas and projects as well as for networking.
We congratulate Anna-Karin Gustavsson, from the Moerner Lab at Stanford University as she won this year's Young Investigator Award for her top-notch work on "Tilted light sheet microscopy with 3D point spread functions for single-molecule super-resolution imaging in mammalian cells".
We thank all speakers and attendees for making the sessions such a success. See you next year!
Recent news
March 20, 2019
---
February 7, 2019
---
February 5, 2019
---
All News