PicoQuant - It's about time Fluorescence Course
15th European Short Course on
"Principles and Applications of Time-resolved Fluorescence Spectroscopy"
November 6-9, 2017 in Berlin, Germany


This course is held in cooperation with Prof. J.R. Lakowicz from the Center for Fluorescence Spectroscopy and the Department of Biochemistry and Molecular Biology, University of Maryland School of Medicine, Baltimore, Maryland, USA.
Aim and purpose
The course is intended for individuals wishing an in-depth introduction to the principles of fluorescence spectroscopy and its applications to the Life Sciences. Attendees are typically professionals who are using or intend to use fluorescence in their research. Most attendees have some knowledge of fluorescence, typically in a specialized area. However, individuals from totally different research areas and from industry get the opportunity to enter this exciting field in a very effective way and will especially benefit from the experimental section.
Course organization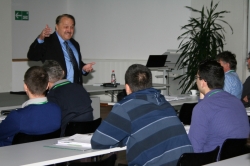 The course consists of lectures and experimentations include steady-state and time-resolved experiments as well as data analysis, performed on various instruments provided by market leading companies.
The lectures on Monday and Tuesday will deal with basics of steady-state and time-resolved fluorescence spectroscopy, instrumentation and data analysis. They cover time-domain and frequency-domain measurements, anisotropy, solvent effects, quenching and Förster Resonance Energy Transfer (FRET).
On Wednesday and Thursday, the lectures cover advanced time-resolved fluorescence topics and data analysis. Applications of fluorescence in biophysics, sensing, plasmon controlled fluorescence or material science are presented along with an introduction to fluorescence microscopy.
The practical sessions including steady-state and time-resolved experimentation as well as data analysis are offered on various instruments provided by market leading companies.
Practical Sessions
Practical sessions on various instruments will be offered. A detailed overview will be published at a later date.
The following companies will offer practical sessions:

Cary Eclipse - a steady-state fluorescence spectrophotometer
Cary 60 - a steady-state UV-Vis spectrophotometer

Important dates
Deadline for early bird registration: July 31, 2017
Deadline for course registration: September 25, 2017
Hotel reservation: October 6, 2017
Registration opens in June 2017
Information and correspondence
Course coordinator: Nicola Kasse
PicoQuant GmbH
Rudower Chaussee 29 (IGZ)
12489 Berlin, Germany
Phone: +49-30-6392-6929
Fax: +49-30-6392-6561
Email: trfcourse@picoquant.com

Please note: schedule and content of this event is subject to change without notice.

Course instructors
The list of speakers will be announced in April 2017.
The list of instructors is subject to changes.
Course location
The 15th course will be held in Berlin-Adlershof, located in the south-east of Berlin. Details on the course and hotel locations will be available in April 2017.
The 14th course will be held in the "Max-Born-Saal" in Berlin-Adlershof, located in the south-east of Berlin. The local area map below shows the course location (blue marker) and hotels (green markers).
Time schedule
The schedule will be published in April 2017.
The time schedule of the course is also available for download.
Monday,
November 7
Tuesday,
November 8
Wednesday,
November 9
Thursday,
November 10
8:00
Registration
9:00
Joseph R. Lakowicz
Biophysical Applications and Time-resolved Fluorescence
9:00
Joseph R. Lakowicz
Advanced Topic: Plasmon-controlled Fluorescence
9:00
Felix Koberling
Introduction to Fluorescence Microscopy Techniques

8:45

Welcome and Introduction

10:30
Coffee Break
10:30
Coffee Break
10:45
Change Buildings and Coffee Break

9:00
Joseph R. Lakowicz
Basic Definitions and Principles of Fluorescence

11:00
Michael Wahl
Instrumentation for Time-resolved Fluorescence Measurements (2)
11:00
Matthias Patting
Computational Aspects of TCSPC Data Analysis
11:15
Practical Sessions (5)
10:30
Coffee Break
12:30
Lunch Break
12:30
Lunch Break
12:45
Lunch Break and End of Course

11:00
Joseph R. Lakowicz
Time-resolved Fluorescence and Fluorescence Probes

13:30
Matthias Patting
Practical TCSPC Data Analysis
13:30
Zygmunt "Karol" Gryczynski
Analytical Applications of Fluorescence
12:30
Group Picture
14:00
Christian Litwinski
Introduction to Practical Sessions
15:00
Change Buildings

12:45
Lunch Break

14:30
Change Buildings
15:15
Practical Sessions (3)
13:45
Rainer Erdmann
Instrumentation for Time-Resolved Fluorescence Measurements (1)
14:45
Practical Sessions (1)
16:45
Coffee Break

15:15
Coffee Break

16:15
Coffee Break
17:00 - 18:30
Practical Sessions (4)

15:45 - 17:30
Zygmunt "Karol" Gryczynski
Fluorescence Measurements, Probes & Standards

16:30 - 18:00
Practical Sessions (2)
19:45
Course Dinner
18:30
Opening Reception
18:00
Spare Time
Registration
Registration opens in June 2017.
Course fees
The course fees will be announced in June 2017.
| | before July 31 | August 1 until September 25 |
| --- | --- | --- |
| Academic / University | 700 € | 850 € |
| Industry and Private Sector | 1400 € | 1600 € |
Besides full course attendance, the fee includes all coffee breaks, 1 reception, 1 dinner, daily lunch, course materials and the use of instruments. Attendees will be responsible for their own travel, lodging and meals.
Please note the terms and conditions.
For payment you can choose between credit card (Visa, Master Card) and bank transfer. Possible bank charges have to be paid by the participant. Please note, that we do not accept checks.
After online registration, you will receive an email notification including a PDF file that includes information on the payment procedure.
In order to take advantage of the early bird rate (deadline: July 31, 2016), payments have to be received by August 7, 2016.
All other payments have to be received within 14 days after date of registration.
We will send an email confirming your participation once we have received your payment. If payment is overdue, your registration will not be processed and considered invalid.
A receipt of payment will be included in our email confirmation of participation.
Cancellation of registration must be submitted in writing or via email and is valid only with acknowledgment of receipt by PicoQuant GmbH. A refund of registration fees is dependent on the notice given:

For cancellations made until September 25, 2016, 75 % of the received registration fee will be reimbursed.
In case of cancellations after September 25, 2016, 25 % of the registration fee will be reimbursed.
It is possible to name and send a substitute participant.

No visa letters will be issued until payment of the registration fee is received and confirmed.
Schedule and content of this event is subject to change without notice.
PicoQuant records photographs and video material of participants at the events. By registering for a PicoQuant event, you agree that we may include images of yourself (either as a full image or in parts) for promotional purposes (press releases, event website, etc.). If you do not want us to use pictures in which you appear, please inform us in written form.

Financial support
Details on how to apply for a fee waiver will be announced at a later date.
As in the previous years, PicoQuant will grant a fee waiver to a few participants from the university and academic sector of economically less privileged countries. Accomodation, travel and personal expenses still need to be paid by the participants themselves. The selection of sponsored people is completely the sole decision of PicoQuant and there is no right or guarantee to receive a fee waiver.
To apply for a fee waiver please send us your application including:
a letter of application
a formal letter of recommendation from your department/institute.
Please note that only one person per research group can be considered for a fee waiver.
Deadline for fee waiver applications is July 31, 2016.
The deadline to apply for a fee waiver has passed. We can no longer accept applications.
Accommodation
We will negotiate special rates for the course participants with some hotels. The contact information and prices will be listed on this website in June 2017.
We have negotiated special rates for a limited number of rooms in two local hotels which are in walking distance to the course location. Please note that the number of rooms and the booking time are limited and we therefore advise to reserve your room as soon as possible.
City Tax
Please note that since the beginning of the year 2014, tourists staying overnight in Berlin are subject to paying an accommodation tax, the so-called City Tax. It amounts to five percent of the room rate (net price), excluding VAT and fees for amenities and services such as mini-bar, sauna, or spa area. The City Tax does only affect private overnight stays and NOT business travellers. The business purpose of a trip can be verified by a bill that is paid by or issued to the employer, or a letter from the company. If the accommodation is booked by the employer in the first place, there is no further proof necessary.

Also see the information at www.berlin.de.
---
---
Archive
The European short course on "Principles and Applications of Time-resolved Fluorescence Spectroscopy" is an annual event since 2003. For further details about each year's event, please select the year from the list below.
Thank you for registering for the Fluorescence Course!
An email with the supplied information has been sent to the provided address.
×