PicoQuant - It's about time
Leading in Single Photon Counting Applications Picosecond Pulsed Sources
Solea soon
Tunable Picosecond Laser
Usable spectral range: 480 nm - 700 nm
Pulse width at any selected wavelength < 150 ps
Externally triggerable between 1 MHz and 40 MHz
Internal oscillator: 1.25 MHz to 40 MHz (user selectable)
Integrated tunable bandpass fiter with OD > 5
Optimized timing/synchronization output for TCSPC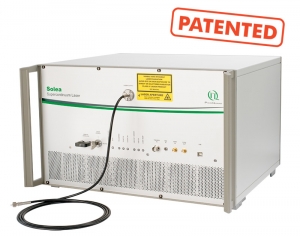 Solea is a stand-alone, computer controlled, tunable picosecond laser source with an unmatched flexibility in repetition rates (covered by patent DE 10 2009 056 092). It is based on a unique combination of gain-switched, fiber-amplified laser diodes with exclusive, patent pending fiber pumping control and well established, state-of-the-art photonic-crystal fiber for supercontinuum generation.
Variable repetition rates up to 40 MHz
A special feature of the Solea is the capability to be operated at various, freely adjustable repetition rates between 1 MHz and 40 MHz. The repetition rates can be either selected using an internal oscillator, which provides six fixed, user-selectable repetition rates between 1.25 MHz and 40 MHz. Alternatively, the Solea can even be externally triggered at any repetition rate between 1 MHz and 40 MHz or in pulse burst patterns. This unique feature permits to synchronize the Solea with other lasers for, e.g., multicolor excitation schemes. The extinction between each pulse is complete, and classical, contrast limited pulse pickers are not needed.
Integrated tunable bandpass filter
The Solea is delivered with an integrated dedicated tunable bandpass filter with a high side mode suppression ratio of greater than OD 5 (50 dB), which makes it even suitable for single molecule detection.The filter has a transmission of up to 30% and permits to set the central emission wavelength as well as the width of the spectal emission to any value between 3 nm and 15 nm.
480 nm to 700 nm, < 150 ps pulse width
The Solea emits from a polarization maintaining single mode fiber with a usable spectral range between 480 nm and 700 nm. After the tunable bandpass filter, the pulse width at any wavelength is <150 ps (FWHM). Each pulse is accompanied by a corresponding timing optimized synchronization signal, which can be used to trigger other components such as TCSPC electronics.
PCF performance (internal)
Spectral range
480 nm - 2000 nm
Average spectral density
> 1 mW/nm (@ 40 MHz repetition rate)
Repetition rates
Internal
1.25, 2.5, 5, 10, 20, 40 MHz (user-selectable)
External
1 MHz to 40 MHz (freely triggerable, NIM or TTL signal)
Synchronization output
Amplitude
< -800 mV into 50 Ohms (NIM)
Laser output after bandpass filter
Spectral width
tunable between 3 nm and 15 nm
Spectral range*
480 nm - 700 nm
Overall transmission
up to 30%
Output fibre type
polarization maintaining single mode fiber
Pulse width
< 150 ps (at any wavelength)
* other spectral range upon request
All Information given here is reliable to our best knowledge. However, no responsibility is assumed for possible inaccuracies or omissions. Specifications and external appearances are subject to change without notice.
The following documents are available for download: